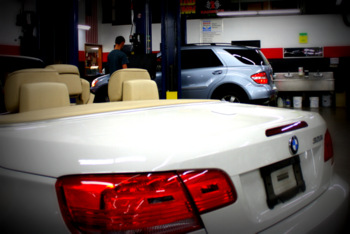 Mid Cities, Colleyville, Grapevine and Southlake's Leading BMW Service Center

The seamless combination of elegance and performance has made BMW a standard bearer of European luxury automobiles for decades. Integrating the latest technologies, BMW has set new standards in terms of driver comfort and safety. With the new features, inclusions and enhancements added every year, the maintenance and repair requirements of your repair partner increase as well. For many drivers, the dealership represents the best way to receive required maintenance and repair. But at what price point?

BMW Specialists

For years, the experts at Zims Autotechnik have provided dealership quality maintenance and repair for BMW owners in Bedford, TX as well as Colleyville, Grapevine and Southlake. BMWs are known for requiring particular service procedures, unique parts and fluids to get the job done right. For routine maintenance we can read your BMWs Condition Based Service (CBS) requirements and provide you with a written recommendation and estimate. For repairs, we perform a full diagnosis, isolate the root cause of the problem and repair it properly using the highest quality parts and – in our opinion – the best technicians in Texas. Our clients frequently discover that brake repairs or transmission repairs they originally feared to be costly, time-consuming endeavors are solved with affordable, routine maintenance. From oil leaks to A/C repair to front suspension repair, your BMW will be in the best hands and you will stay informed every step of the way.

Dependable Repairs and Affordable Rates

Our ethos is to advise our clients of not just what is necessary at the moment, but what they should be aware of, and budget for the future. This personalized approach we take to every job has set the standard of service for BMW drivers in Bedford, Euless, Hurst, Colleyville, Grapevine and Southlake. Our staff receives regular continuing education to stay abreast of all the latest controls and systems of your BMW, so we can not only advise you of what is necessary now, but also upcoming maintenance and repairs. These service plans are crucial to the longevity and performance of your BMW and with our affordable rates, you won't need to risk subpar service to receive dealership level quality.